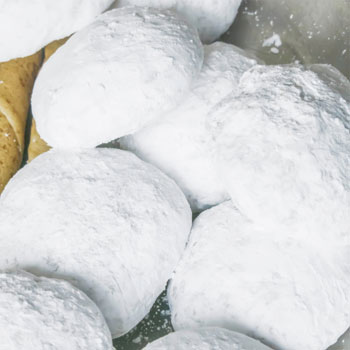 Lime Melt-Away Cookies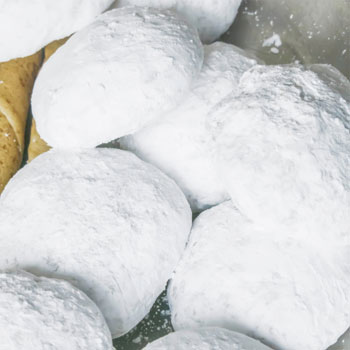 Juice up dessert with a fresh treat. These zesty cookies are light and delicious after a summer meal – or anytime you crave something a little sweet and a little sour.
At a glance
Difficulty:
Course/Dish:
Cooking Lite:
Healthy Eating:
Ingredients
3/4 cup (1 1/2 sticks) unsalted butter
1/3 cup confectioners' sugar
Zest of 2 limes, finely grated
2 tablespoons freshly squeezed lime juice
3/4 packet True Lime (optional)
1 3/4 cups plus 2 tablespoons all-purpose flour
2 tablespoons cornstarch
1/4 teaspoon salt
Coating:
2/3 cup confectioners' sugar
1/4 packet True Lime
Methods/steps
Remove butter from refrigerator for 20 minutes before using. Do not allow butter to get soft - it should be waxy, not oily. Wash 2 limes under hot running water. Zest and set aside. Squeeze the limes, discarding seeds. Add the grated lime peel to the juice. Stir in 3/4 of the True Lime packet (approximately), reserving the remainder for the coating. Beat butter with sugar until light and fluffy. Add the lime juice mixture. Combine flour, cornstarch and salt. Beat flour into butter mixture on low speed for 1 minute or just until no streaks remain. Roll cookie dough into 1 1/2" logs. Wrap the dough, Tootsie-Roll style with waxed or parchment paper, twisting ends to seal. Refrigerate 90 minutes (or up to 24 hours). When ready to bake, preheat oven to 350°F. Remove logs from wrappings and slice into 1/8 inch thick circles with a thin, sharp knife. Optionally, and for a festive touch, a tiny pinch of green cookie sugar may be sprinkled just in the center for added color. Bake in preheated oven on silicone or parchment lined baking sheets for 15 minutes or less, watching carefully during the last few moments. The cookies should be very lightly golden in color. Remove cookies from oven and transfer from baking sheet to a wire rack to cool for 10 minutes. Shake cookies in a Ziploc bag or plastic container filled with 3/4 cup confectioners' sugar plus 1/4 packet of True Lime powder (optional).
---
---