Pork Chops Deluxe
Forget those tiresome pork chop dishes. These pork chops deluxe are simply divine. One taste and you'll realize they're a cut above the rest.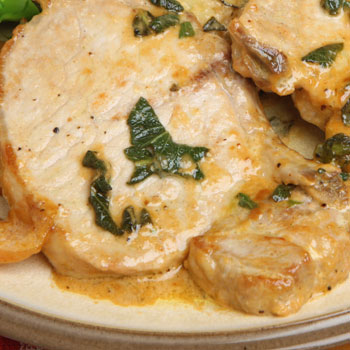 Ingredients
For 4 people
1

onion, sliced

3

potatoes, peeled and sliced

1

can cream of mushroom or celery soup

6

pork chops

1

dash(es)

salt, to taste

1

dash(es)

pepper to taste
Directions
Put onions and potatoes in bottom of slow cooker. Top with chops, salt and pepper; pour soup over chops. Cook on low for 8 hours or on high for 4-5 hours.
Ready in 4-8 hours
Related Recipes
Here are some other recipes that'll get dinner on the table in a hurry:
easy chicken tenders
ground beef & veggie stew
slow beef stroganoff
Nutrition facts
Kcal: 615.97 kcal
Fibers (g): 4.04g
Sodium (mg): 775.13mg
Carbs: 36.15g
Fat: 16.25g
Saturated fat (g): 4.55g
Proteins: 78.19g