Classic Cheese Fondue
When you're searching for a fun food that will make you melt, say cheese! Cheese fondue is a classic party dish that's making a comeback in a big way - and this traditional recipe definitely does the job.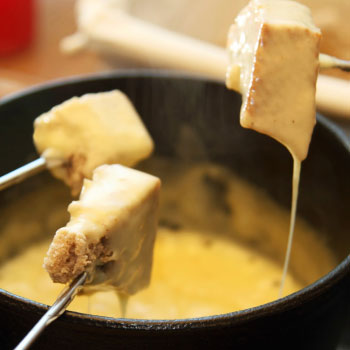 Ingredients
For 4 people
2

cup(s)

shredded natural Swiss cheese (8 oz.)

2

cup(s)

shredded Gruyere cheese (8 oz.)

1

tablespoon(s)

cornstarch

1

clove garlic, cut into halves

1

cup(s)

dry white wine

1

tablespoon(s)

lemon juice

1 1/2

ounce(s)

kirsch or dry sherry

1/2

teaspoon(s)

salt

1/8

teaspoon(s)

white pepper

1

French bread, cut into 1-inch cubes
Directions
Toss cheeses with cornstarch until coated. Rub garlic on bottom and side of heavy saucepan or skillet; add wine. Heat over low heat just until bubbles rise to surface (wine should not boil). Stir in lemon juice. Gradually add cheeses, about 1/2 cup at a time, stirring constantly with wooden spoon over low heat until cheeses are melted. Stir in kirsch, salt and white pepper. Remove to earthenware fondue dish; keep warm over low heat. Spear bread cubes with fondue forks; dip and swirl in fondue with stirring motion. If fondue becomes too thick, stir in 1/4 to 1/2 cup heated wine.
Nutrition facts
Kcal: 615.94 kcal
Fibers (g): 3.05g
Sodium (mg): 1211.03mg
Carbs: 26.88g
Fat: 38.87g
Saturated fat (g): 22.84g
Proteins: 35.04g