Spicy Chicken & Tomatoes
Spice up the night with this Mexican-style chicken and tomatoes. When it comes to picking a simplistic poultry dish, you can't go wrong with this easy-does-it offering.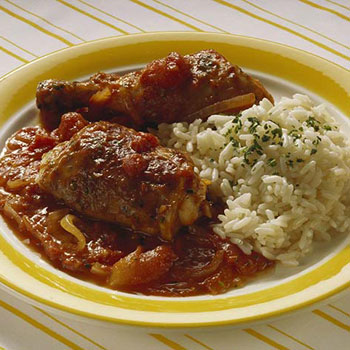 Ingredients
For 4 people
1

Olive oil nonstick spray

4

skinless, boneless chicken breast halves

2

eggs, slightly beaten

1/2

cup(s)

to 0.75 cup Italian-style fine dry bread crumbs

14

ounce(s)

diced tomatoes

2

tablespoon(s)

taco seasoning mix (1 oz. pkg.)
Directions
Preheat oven to 350 degrees. Spray bottom and sides of a rectangular or oval casserole dish with olive oil. Then, in a bowl, slightly beat the 2 eggs. In another bowl, place the bread crumbs. Dip one chicken breast in the slightly beaten egg; coat all sides of the chicken breast with the bread crumbs. Place in greased rectangle or oval casserole dish. Repeat with remaining chicken. In a small mixing bowl, combine the diced tomatoes and the taco seasoning mix. Mix well. Pour tomato mixture on top of breaded chicken breasts. Bake uncovered at 350 degrees about 50 minutes or until chicken is done.
Nutrition facts
Kcal: 283.25 kcal
Fibers (g): 1g
Sodium (mg): 433mg
Carbs: 15.93g
Fat: 5.38g
Saturated fat (g): 0.78g
Proteins: 40.64g