Salmon Salad
Many people are buying wild salmon for the healthy Omega-3 oils it contains, and this is a yummy way to eat healthy. Relive your salad days with this swimmingly good salad.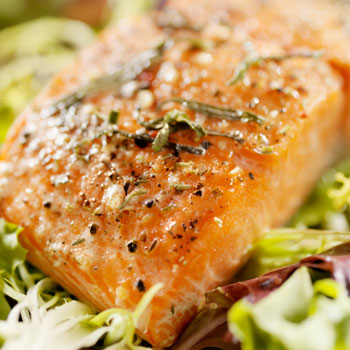 Ingredients
For 1 people
1/4

cup(s)

pecan halves or pieces, toasted

1

tablespoon(s)

melted butter

1 1/2

teaspoon(s)

brown sugar

1

dash(es)

salt, to taste

1

dash(es)

pepper, to taste

2

tablespoon(s)

butter

1

salmon filet

3

teaspoon(s)

sugar

1

tablespoon(s)

maple syrup

1

tablespoon(s)

balsamic vinegar

1

tablespoon(s)

Canola oil

1

mixed greens

2

tablespoon(s)

blue cheese, crumbled

1

Grape tomatoes
Directions
Toss toasted pecans with brown sugar and desired amount of salt and pepper. Heat a cast iron skillet to medium-high. Add butter to pan. Sprinkle one side of salmon with sugar; put filet in pan, sugar side down. Cook 2-3 minutes. Place fish in ovenproof pan, sugar side up, and finish cooking in oven at 350 degrees until done, about 8 minutes. To make dressing, mix syrup and vinegar in blender. With blender running, add oil until dressing is desired consistency. Put mixed greens on plate and top with salmon, nuts, blue cheese and tomatoes. Drizzle with dressing.
Nutrition facts
Kcal: 1597.07 kcal
Fibers (g): 3.12g
Sodium (mg): 880.32mg
Carbs: 40.82g
Fat: 120.55g
Saturated fat (g): 37.44g
Proteins: 87.13g