Pesto Chicken Lasagna
Don't pass on the pesto. This pesto chicken lasagna is a great alternative when you're feeling like Italian without seeing red... as in red sauce. Every bite is amore.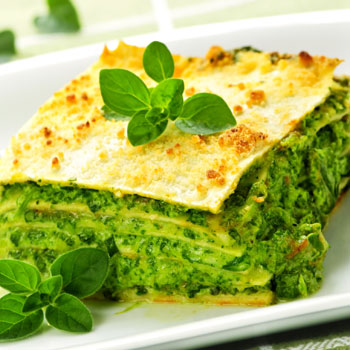 Ingredients
For 12 people
1 3/4

cup(s)

part-skim ricotta cheese

2

garlic cloves, finely chopped

6

teaspoon(s)

chopped oregano

8

tablespoon(s)

grated Romano cheese

1

dash(es)

salt

1

dash(es)

pepper to taste

1

Non stick spray

1

package of no-boil lasagna noodles

2

cup(s)

prepared pesto

4

cup(s)

skinless, boneless chicken breast halves, cooked and cut into strips

12

ounce(s)

jar of roasted red peppers, cut into strips

16

ounce(s)

reduced-fat mozzarella cheese
Directions
Preheat oven to 350 degrees. Mix the ricotta cheese, garlic, oregano, romano cheese, salt & pepper. Spray the bottom and sides of a rectangular lasagna pan (13x9 or 12x8) with nonstick spray. Start the first layer with 3 noodles, then top with 1/3 of the ricotta mixture, 1/4 of the pesto, 1/3 chicken, 1/3 red peppers and 1/4 mozzarella. Repeat 2 more layers. For the final layer, top with 3 more noodles, then the remaining pesto and mozzarella. Carefully cover with tin foil, be sure the foil doesn't touch the cheese. Bake at 350 for 45 minutes, uncovering for the last 15 minutes of cooking.
Nutrition facts
Kcal: 507.73 kcal
Fibers (g): 1.06g
Sodium (mg): 681.98mg
Carbs: 24.29g
Fat: 30.96g
Saturated fat (g): 9.98g
Proteins: 33.2g