Classic Mashed Potatoes
Mastering perfect mashed potatoes is a cinch. You can dress up this classic by adding any of the following ingredients to give it flair: 3 tbsp pesto, 4 oz soft goat cheese or sour cream, or 2 tbsp. chopped scallions.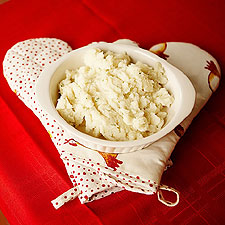 Ingredients
For 6 people
3

large Idaho potatoes, peeled and cut into 1-inch chunks

4

tablespoon(s)

butter, at room temperature

1/4

teaspoon(s)

sea salt

3/4

cup(s)

to 1 cup milk

1

Freshly ground black pepper
Directions
Place the potatoes in a large saucepan with enough lightly salted water to cover. Bring to a boil, reduce heat to low, cover, and simmer 12 to 15 minutes or until the potatoes feel tender when pierced with a wooden skewer. Drain and return to pan.
Shake over low heat to dry slightly. Using an electric mixer beat the potatoes until smooth. Add the butter in small pieces with the salt and pepper and beat until melted. Add the milk, 1/4 cup at a time, beating until smooth and ready to serve.
Nutrition facts
Kcal: 225.56 kcal
Fibers (g): 3.29g
Sodium (mg): 126mg
Carbs: 33.1g
Fat: 8.87g
Saturated fat (g): 5.48g
Proteins: 4.78g