Cheese & Bean Enchiladas
Ole! Ole! Life without Mexican is boring! Spice up your dinner with this bean and cheese enchilada recipe. It will leave you saying Cha, Cha Cha!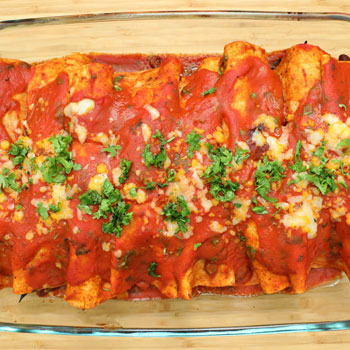 Ingredients
For 4 people
8

large corn tortillas

1

teaspoon(s)

oil

1

green pepper, chopped

2

small onions

3

tablespoon(s)

chili powder

3/4

teaspoon(s)

garlic powder

3/4

teaspoon(s)

onion powder

1 2/3

cup(s)

cooked kidney beans, or 1 can, drained

1/2

cup(s)

low fat cottage cheese

1 1/2

cup(s)

tomato puree or sauce (1 10.75 oz. can)

2

ounce(s)

shredded Monterey jack cheese
Directions
Soften tortillas if needed by wrapping in a damp paper towel and microwaving on high for 30 seconds. Cook onion and green pepper in oil until soft. Drain beans and mash. Add 2 tbsp. of the chili powder, ½ tsp. of the garlic powder, 3 tbsp. of the tomato puree or sauce, and the mashed beans and cottage cheese to the onions and green pepper. Mix well. Place 3 tbsp. of the bean and cheese mixture on each tortilla. Roll tortillas up and place in a baking dish. In a small bowl, combine remainder of tomato puree, remainder of the garlic powder, and all the onion powder. Stir well. Pour the seasoned tomato puree or sauce over the enchiladas, and top with Monterey jack. Cover and bake at 350 degrees for 20 to 30 minutes, until heated through and cheese on top is melted. Ready in 50 min.
Nutrition facts
Kcal: 352.62 kcal
Fibers (g): 13.55g
Sodium (mg): 594.92mg
Carbs: 55.89g
Fat: 8.28g
Saturated fat (g): 3.33g
Proteins: 19.18g