Broccoli Cheese Crepes
Holy crepes! This is a perfect recipe for a brunch; the best part of it is that you don't have to use broccoli. Instead, opt for spinach, asparagus or whatever other vegetable is in your fridge.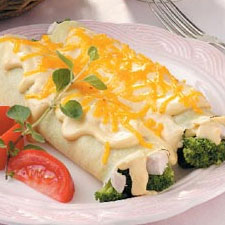 Ingredients
For 3 people
2

eggs

2

floz

water

6

tablespoon(s)

all-purpose flour

1/2

teaspoon(s)

salt

2

tablespoon(s)

chopped onion

1

tablespoon(s)

butter

1

tablespoon(s)

all-purpose flour

1

cup(s)

milk

1

cup(s)

shredded Cheddar cheese, divided

5 1/2

teaspoon(s)

Dijon mustard

1

teaspoon(s)

Worcestershire sauce

1/4

teaspoon(s)

pepper

1/8

teaspoon(s)

salt

2

cup(s)

frozen chopped broccoli, thawed
Directions
For batter, combine the eggs, water, flour and salt in a blender. Cover and process until smooth; let stand for 15 minutes. Meanwhile, in a small saucepan, sauté onion in butter until tender. Stir in flour until blended. Gradually stir in milk. Bring to a boil over medium heat, stirring constantly; cook and stir for 2 minutes or until slightly thickened. Reduce heat to low. Stir in 1/2 cup cheese, mustard, Worcestershire sauce, pepper and salt until cheese is melted. Stir in broccoli. Cover; keep warm.

Heat a lightly greased 8-in. nonstick skillet; pour 2 tbsp. batter into the center of skillet. Lift and tilt pan to evenly coat bottom. Cook until top appears dry; turn and cook 15-20 seconds longer. Remove to a wire rack. Repeat with remaining batter, greasing skillet as needed. Spoon about 1/2 cup filling down the center of each crêpe; roll up. Place seam side down in an un-greased 11-in. x 7-in. x 2-in. baking dish. Sprinkle with remaining cheese. Bake, uncovered, at 350 degrees for 5-7 minutes or until cheese is melted.

PREP TIME 30 Min
COOK TIME 5 Min
READY IN 35 Min
Nutrition facts
Kcal: 424.96 kcal
Fibers (g): 4.28g
Sodium (mg): 1082.37mg
Carbs: 35.99g
Fat: 21.58g
Saturated fat (g): 11.58g
Proteins: 19.67g