Best Palak Paneer
Palak Paneer is a traditional Indian dish that doesn't disappoint. Although it may seem like an exotic recipe, you'll have no trouble making a batch in the comfort of your own home. You're sure to love every last bite.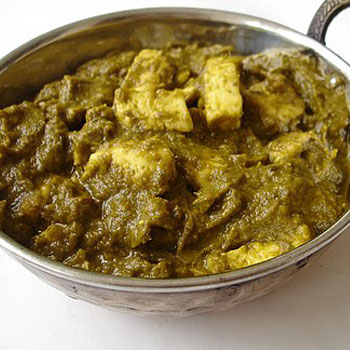 Ingredients
For 6 people
10

ounce(s)

baby spinach

1

large onion

1/4

teaspoon(s)

cinnamon

1/4

ground cardamom

1

teaspoon(s)

ground ginger

1/2

teaspoon(s)

chopped garlic

1/2

cup(s)

chopped tomatoes

1/5

cup(s)

plain yogurt

3

teaspoon(s)

coriander

1/2

teaspoon(s)

garam masala

1/2

teaspoon(s)

paprika

1/2

teaspoon(s)

salt

8

ounce(s)

paneer cheese, cut into cubes

4

tablespoon(s)

heavy cream
Directions
Cut spinach into shreds and cook in 3 tbsp. water until tender remove from heat. Sauté onion, cinnamon, cardamom, and ginger in 12 tbsp. ghee or oil until onion is translucent. Then add garlic and chopped tomatoes, and reduce heat. Cook this briefly and slowly blend in yogurt a little at a time to prevent curdling. Add coriander, garam masala, paprika, and salt, mixing well.
Add cooked spinach with liquid, cover and simmer on low heat for approximately 20-30 minutes. Remove from heat. Take half of spinach mixture and puree in food processor or blender, and return to mixture and stir. Slowly stir in heavy cream, and heat through on low heat, then add paneer cubes and serve.
Nutrition facts
Kcal: 181.51 kcal
Fibers (g): 4.94g
Sodium (mg): 297.41mg
Carbs: 9.53g
Fat: 14.23g
Saturated fat (g): 9.12g
Proteins: 10.08g