Baked Spinach & Eggs
This breakfast dish will have you wanting to eat all your spinach and fight til it's finished. Eggs, spinach and Parmesan cheese come together to create this eggs-cellent breakfast. It definitely packs a nutritional punch.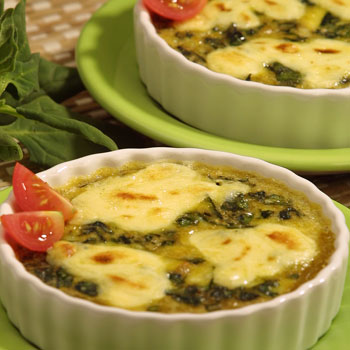 Ingredients
For 6 people
40

ounce(s)

fresh spinach (2.5 lbs)

3/4

cup(s)

grated Parmesan cheese

6

eggs

1/2

cup(s)

butter, melted

1

dash(es)

salt, to taste

1

dash(es)

pepper, to taste
Directions
Preheat oven to 375 degrees.
Bring 1/4 cup of water to a rapid boil in a large skillet.
Wash spinach well in cold running water. Remove any heavy stalks.
When water is boiling, add spinach and cook for 7 minutes. Drain well. Squeeze dry with paper towel. Set aside.
Dry the skillet which was used to cook spinach and melt 4 tbsp. of butter. Sauté spinach in butter for several minutes over medium high heat. Grease an ovenproof casserole or baking dish with 1 tbsp. butter. Transfer spinach to baking dish. Sprinkle evenly with Parmesan cheese. Melt remaining butter and pour over spinach. Bake in oven at 375 degrees. When cheese has thoroughly melted, remove from oven.
Meanwhile, sauté the eggs. Serve with the spinach on a heated serving dish.

Ready in 30 min
Nutrition facts
Kcal: 640.8 kcal
Fibers (g): 41.67g
Sodium (mg): 1923.49mg
Carbs: 70.73g
Fat: 26.28g
Saturated fat (g): 12.84g
Proteins: 61.45g