The Healing Properties of Rubies
| | | | |
| --- | --- | --- | --- |
| | | | |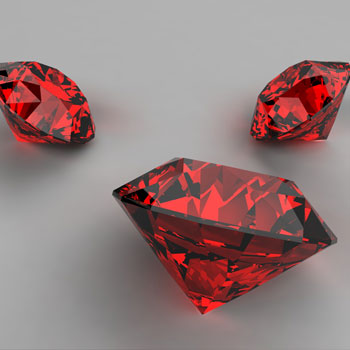 by Sher Matsen
Rubies have long been thought to have healing properties in treating both the blood and matters of the heart. When you say the word ruby you immediately visualize the colorful images of this stone, as well as an emotional response of passion, romance, and power. Yes that's the power and the beauty of a ruby! The deep rich color of the ruby ranges from fiery orange red to deep purple red. This rare gem is one of the most expensive gems and one of the most sought after.
The ruby has a history steeped in mystery and medicine. For centuries it has been used to cure and protect. Ancient cultures believed the ruby could cure ailments of the digestive system, energize the blood, and treat the heart. Warriors wore the ruby into battle because of its protective qualities.
The ruby as a gemstone for jewelry has a very interesting history. The crown of Charles IV of Luxembourg from the 1300s held a gem quality ruby that was a whopping 250 carats. The Smithsonian is home to a 137 carat cabochon star ruby. The most expensive ruby ever sold at auction was a 15.97 carat stone that sold for $3.63 million in 1988. No matter their size or value all can agree that the ruby is a powerfully beautiful gem.
If you are in the market to buy a ruby [rubies] you should buy the best quality gem you can afford. Don't go for size go for quality. You'll not be disappointed. Rubies are treated with heat to enhance their color. Look for rubies that are a deep fiery red with not too much purple hue. The more visible purple the less the value. Almost all quality rubies have inclusions, although they will not be visible to the naked eye, so you'll need to examine under a loope. When purchasing your ruby look for a clear stone with few inclusions. If you have to choose between good color and more inclusions or poor color and few inclusions go for the "best color. The cut of the ruby is important. A good cut will make the ruby look like it is glowing with a deep fire. Inspect the stone under good lighting to ensure there are no chips or scratches.
| | | | |
| --- | --- | --- | --- |
| | | | |
---