The Best Chocolate Cake
This decadent dessert takes the cake. Oozing with goodness, it's a slice of heaven that's sure to satisfy the chocaholic in you. Bake this cake as fast as you can.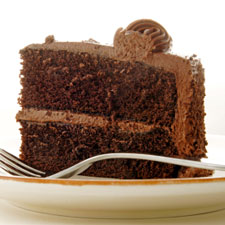 Ingredients
For 10 people
4

ounce(s)

unsweetened chocolate

1/2

cup(s)

milk

1

cup(s)

brown sugar, packed

1/4

teaspoon(s)

Jamaican allspice

1

egg yolk

2

cup(s)

cake flour

1

teaspoon(s)

baking soda

1/2

teaspoon(s)

salt

1/2

cup(s)

butter

1

cup(s)

superfine sugar

2

egg yolks

1 1/2

floz

water

1/2

cup(s)

milk

1

teaspoon(s)

vanilla

1/2

floz

dark rum

2

egg whites, whipped
Directions
Preheat oven to 350 degrees. Grease 2 - 9 inch layer cake pans. Whisk together chocolate, milk, allspice, brown sugar and one egg yolk in the top of a double boiler, stirring until custard is formed and mixture thickens. Cool. Stir in baking soda and salt. Sift the flour onto waxed paper. In bowl of electric mixer, whip the butter, gradually adding sugar and two egg yolks, one at a time, beating well after each addition. In a cup, stir together 3 tbsp. water, 1/2 cup milk, and 1 tsp. vanilla extract and 1 tbsp. dark rum. Add the flour mixture to the butter mixture alternating with the vanilla/milk/water mixture. Stir in the chocolate custard mixture and beat until smooth, approximately two to three minutes at medium speed of mixer. In a clean bowl, using the wire whisk attachment of your electric mixer beat two egg whites until soft peaks form; gently fold into cake batter. Turn into greased layer cake pans. Bake at 350 degrees. for about 25 minutes or until cake tester or toothpick inserted in center comes out clean. Turn out onto wire racks to cool. Level with a serrated knife if required, then stack and frost with chocolate frosting.
Nutrition facts
Kcal: 364.7 kcal
Fibers (g): 0.07g
Sodium (mg): 375.6mg
Carbs: 60.9g
Fat: 11.59g
Saturated fat (g): 6.95g
Proteins: 4.1g