Syrian Eggplant Stew
Stew on this. If you count eggplant among your favorite foods, this scrumptious stew is sure to resonate with you. Steer away from the same old stuff with this exotic dishes.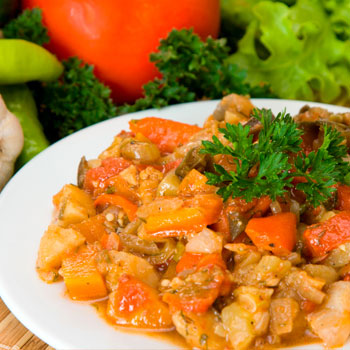 Ingredients
For 6 people
1

pound(s)

beef stew meat in 1-inch cubes

2

onions, sliced very thinly

1

clove garlic, crushed

3

tablespoon(s)

olive or vegetable oil

1/4

teaspoon(s)

nutmeg

1

teaspoon(s)

cinnamon

1/4

teaspoon(s)

turmeric

1

teaspoon(s)

salt

1/4

teaspoon(s)

black pepper, freshly ground

2

medium sized eggplants, peeled and quartered lengthwise

2

tablespoon(s)

tomato paste

2

Juice of 2 lemons

1

large tomato, peeled and sliced
Directions
In a Dutch oven, brown the meat with the onions and garlic in about 3 tbsp. of oil. Add nutmeg, cinnamon, turmeric, salt and pepper. Pour in 3 cups of water with meat and bring to a boil. Cover, reduce heat and simmer for 1 hour. Sprinkle both sides of eggplant pieces with salt and let it stand 20 minutes. Rinse and pat dry. Sauté the eggplant in a skillet with a tbsp. of oil; set aside. Add tomato paste and lemon juice to the meat, mix well; adjust seasoning if necessary. Preheat the oven to 350 degrees. Pour the meat and sauce into an ovenproof casserole dish; arrange eggplant and tomato slices on top. Cover and bake 45 minutes.
Nutrition facts
Kcal: 297.8 kcal
Fibers (g): 6.56g
Sodium (mg): 446.43mg
Carbs: 23.35g
Fat: 12.56g
Saturated fat (g): 3.18g
Proteins: 27.11g