Sweet & Sour Sauce
Feeling sweet or maybe sour? Get saucy with this divine sweet and sour sauce that can be used for meatballs, chicken, pork or any other way you see fit. Remember, it don't mean a thang if you ain't got that tang. So dip into a sauce that's to die for.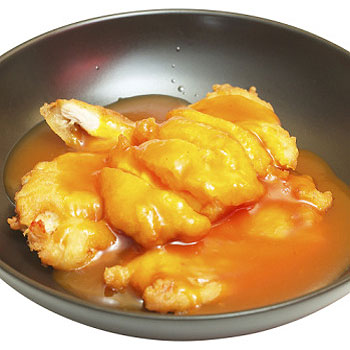 Ingredients
For 8 people
3 1/2

cup(s)

pineapple chunks, drained to make about 28 oz., reserving syrup (I use 1 small & 1 large can)

1 1/4

cup(s)

regular strength chicken broth

1/4

cup(s)

brown sugar

3/4

cup(s)

vinegar

1

tablespoon(s)

soy sauce

1

tablespoon(s)

catsup

1/4

cup(s)

cornstarch

1

cup(s)

green onion, thinly sliced

3

green peppers, seeded & cut into 1" squares
Directions
Combine pineapple syrup with chicken broth, brown sugar, vinegar, soy sauce, catsup and cornstarch. Cook; stirring until thickened. At this point, you can refrigerate the sauce until you nedd. Shortly before you want to use the sauce heat it slowly, stirring until bubbly. Add onion and green pepper. Cook 1 minute longer. Remove from heat and add pineapple chunks. Makes about 2 1/2 cups liquid sauce (plus veggie and fruit). If you do not want to refrigerate the sauce overnight, then just add veggies and fruit as above.
Nutrition facts
Kcal: 106.96 kcal
Fibers (g): 2.02g
Sodium (mg): 269.12mg
Carbs: 25.96g
Fat: 0.18g
Saturated fat (g): 0.03g
Proteins: 1.04g