Sweet Potato Souffle
Sweet dreams are made of these. This sweet potato souffle is where side dish meets dessert. Although it might seem like a holiday staple, you can -- and should -- enjoy it any day of the year. It's one dish your family will go nuts over.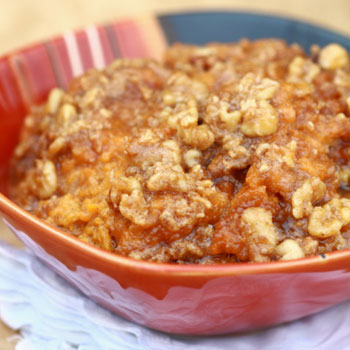 Ingredients
For 8 people
6

sweet potatoes

2

eggs, beaten

3/4

cup(s)

white sugar

1/2

cup(s)

milk

1/2

cup(s)

melted butter

1

teaspoon(s)

vanilla extract

1/2

teaspoon(s)

salt

1

cup(s)

dark brown sugar

1

cup(s)

chopped pecans

1/3

cup(s)

all-purpose flour

1/3

cup(s)

melted butter
Directions
1. Using a large stockpot, cover sweet potatoes with 1 inch of water. Boil for 20 minutes, or until fork tender. Drain, allow to cool and remove skins.
2. Preheat oven to 350 degrees F. Grease or butter a 2 quart casserole dish.
3. Place potatoes in a bowl and with an electric mixer, whip on low speed until potatoes begin to break up. Increase speed to medium high and blend until smooth.
4. Reduce speed to low and mix in sugar, milk, butter, vanilla, eggs and salt.
5. Allow any potato 'fibers' to remain on the beater and remove. Pour sweet potato mixture into the casserole dish.
6. Prepare the topping in a small bowl by whipping together the brown sugar, flour, butter and pecans. Sprinkle over potato mixture and bake for 40 minutes.
Nutrition facts
Kcal: 317.47 kcal
Fibers (g): 4.47g
Sodium (mg): 204.25mg
Carbs: 46.17g
Fat: 13.48g
Saturated fat (g): 2.14g
Proteins: 5.46g