Spinach Squares
Popeye ate all of the spinach and fought 'til the finish... and you should too. Even if you aren't a fan of the greens, you won't be able to resist these spinach squares.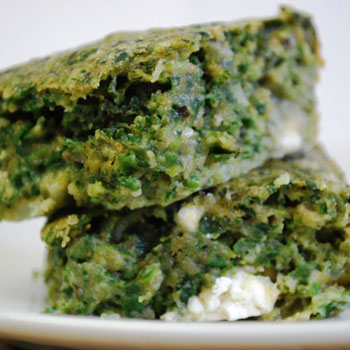 Ingredients
For 9 people
1

egg

1/4

cup(s)

egg substitute

1/2

cup(s)

low fat milk

1

cup(s)

unbleached or all-purpose flour

1

teaspoon(s)

salt

1

teaspoon(s)

baking powder

2

tablespoon(s)

butter or canola margarine, melted

1/3

cup(s)

fat-free or light sour cream

8

ounce(s)

reduced fat Monterey Jack cheese, cut into 1/2-inch cubes

2

10-ounce boxes frozen chopped spinach, thawed and drained
Directions
Preheat oven to 325 degrees. Coat a 9x9-inch baking dish with canola cooking spray. Beat egg, egg substitute, milk, flour, salt, baking powder, melted butter, and sour cream in mixing bowl on medium-low speed until smooth batter has formed. Stir in cheese cubes and spinach. Pour into prepared pan, spread evenly with spatula, and bake about 35 minutes. Test center to make sure it isn't runny. Let sit about 10 minutes before serving. Cut the spinach squares after they come out of the oven, then keep them refrigerated.
Nutrition facts
Kcal: 187.06 kcal
Fibers (g): 2.27g
Sodium (mg): 665.55mg
Carbs: 14.26g
Fat: 9.24g
Saturated fat (g): 5.73g
Proteins: 11.87g