Southern Shrimp
Southern peel and eat shrimp are a party staple in the Gulf states. This traditional recipe is full of flavor, thanks to a spice medley and rich buttery saute. The spice rub can be mixed in bulk and kept on hand - and you can use it to create a pasta sauce to serve over a bed of linguine for a quick and easy dinner.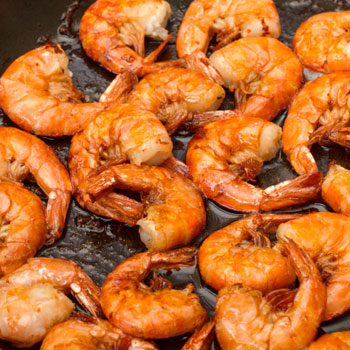 Ingredients
For 1 people
12

jumbo shrimp

1

tablespoon(s)

Cajun blackening seasoning

1

cayenne pepper

1

black pepper

1

white pepper

1

basil

1

salt

1

paprika

1

garlic powder

1

thyme

1/2

cup(s)

clarified butter
Directions

Coat shrimp in seasoning mixture. Heat butter in pan. Sauté until done.
You can serve this as a hot appetizer or over pasta as a main course.
Nutrition facts
Kcal: 1145.8 kcal
Fibers (g): 1.98g
Sodium (mg): 1865.9mg
Carbs: 6.78g
Fat: 96.7g
Saturated fat (g): 58.36g
Proteins: 64.2g