Shrimp & Grits
If you want to be satisfied in a big way then call on this delicious shrimp recipe to do the trick. Just remember-don't skimp on the shrimp. Great tasting shrimp and grits for the whole family.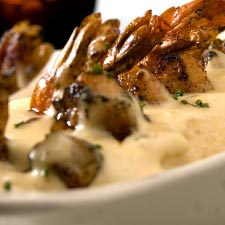 Ingredients
For 4 people
2

tablespoon(s)

Olive oil for sautéing

2

Chopped garlic, to taste

1

red bell pepper, medium dice

1

green bell pepper, medium dice

1

medium red onion, medium dice

12

large shrimp, peeled and deveined

1

floz

White wine for deglazing

1

dash(es)

salt, to taste

1

dash(es)

pepper, to taste

32

tablespoon(s)

heavy cream

2

ounce(s)

Parmesan cheese

3

cup(s)

cooked grits

1

serving cooked grits
Directions
Heat sauté pan and add olive oil. Sauté garlic, red and green pepper and red onion. Add shrimp and cook until slightly pink. Add white wine to pan to deglaze. Add cream, Parmesan cheese and salt and pepper. Cook until liquid is reduced to desired creaminess. Serve over warm grits.
Nutrition facts
Kcal: 711.93 kcal
Fibers (g): 3.36g
Sodium (mg): 914.37mg
Carbs: 36.88g
Fat: 52.58g
Saturated fat (g): 27.59g
Proteins: 11.4g