Shrimp and Grits
Kiss these grits! It once was a dish prepared by those cash-strapped folks who were starving for a satisfying meal. Now, people realize it's a gratifying offering that's rich in taste.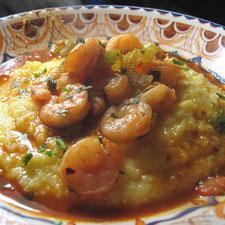 Ingredients
For 2 people
2

cup(s)

1 pot grits, cooked and chilled in loaf pan (1 cup per serving)

2

tablespoon(s)

butter

1/2

red bell pepper, chopped

1/2

large onion, chopped

2

tablespoon(s)

Roux, or as much as desired

1

chicken broth

20

large shrimp, peeled
Directions
Cut two slices off the loaf of chilled grits. Season with salt and pepper and pan-fry; keep warm. Melt butter in saut pan and cook pepper and onion until soft. Whisk roux in pan, and when browned thin with chicken broth, until sauce is desired thickness. Add shrimp and vegetables to pan; cook until shrimp are pink and done, no longer than 3 minutes. Put fried grits on 2 plates and top with shrimp in sauce.
For cheese grits, you can add cubed Monterey Jack cheese to the hot pot of grits before you chill it.
Nutrition facts
Kcal: 551.53 kcal
Fibers (g): 3.82g
Sodium (mg): 1749.93mg
Carbs: 55.01g
Fat: 19.81g
Saturated fat (g): 8.56g
Proteins: 36.4g