Seafood Stuffed Mushrooms
Enjoy these stuffed shrooms with a view. The seafood-infused shrooms make an awesome appetizer that's yummy on the lips without being heavy on the hips. Simply scrumptious!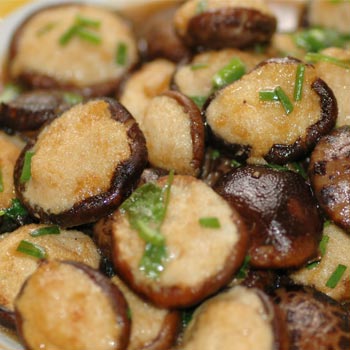 Ingredients
For 1 people
40

medium button mushroom caps (about 24 ounces)

2 2/3

ounce(s)

Neufchatel cheese

1/4

cup(s)

skim milk

1

clove garlic, minced

1/8

teaspoon(s)

nutmeg

1/8

teaspoon(s)

black pepper

1/10

cup(s)

flour

1

tablespoon(s)

low-fat mayonnaise

1

tablespoon(s)

lemon juice

3

tablespoon(s)

Parmesan cheese

1

green onion, chopped fine

1

6-ounce can crabmeat, drained

7

ounce(s)

can baby shrimp, drained

1/2

cup(s)

reduced fat cheddar cheese, finely grated

1/4

cup(s)

Seasoned bread crumbs, for sprinkling (optional)
Directions
Pre-heat oven to 400 degrees F. Wipe mushroom caps with a damp cloth to remove any dirt and remove stems. (Discard stems or save for another use.) Set aside caps. In a saucepan on low heat combine and stir with a wire whisk: flour, Neufchatel cheese, milk, garlic, salt, nutmeg, pepper and heat gently until cream cheese is no longer lumpy. Stir in mayonnaise, lemon juice, Parmesan cheese and green onion. Remove from heat and fold in crab meat and shrimp gently with a rubber spatula. Cover and allow to cool completely before stuffing the mushrooms. Stuff each mushroom cap with filling. Place in a 9 x 13 inch greased baking dish and sprinkle with cheddar cheese and seasoned bread crumbs if desired. Bake 15 to 20 minutes.
Nutrition facts
Kcal: 1102.53 kcal
Fibers (g): 9.55g
Sodium (mg): 2823.37mg
Carbs: 55.65g
Fat: 43.63g
Saturated fat (g): 21.04g
Proteins: 118.8g