Perfect Stuffed French Toast
Want a warm and sweet start to the day? This recipe is the perfect energy booster! Start your day with cream cheese and pecans.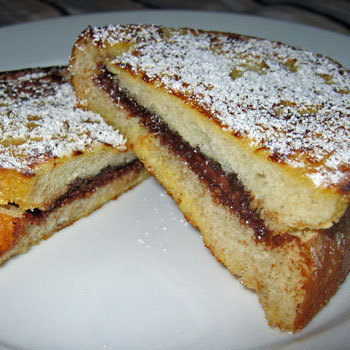 Ingredients
For 8 people
8

ounce(s)

pkg. cream cheese, softened

1/4

cup(s)

crushed pineapple

1/2

cup(s)

chopped pecans, toasted

16

ounce(s)

loaf French bread

4

large eggs

1

cup(s)

whipping cream

1/2

teaspoon(s)

vanilla extract

1

teaspoon(s)

ground ginger

24

tablespoon(s)

apricot preserves (1-12-oz. jar)

1/2

cup(s)

orange juice
Directions
Beat cream cheese and pineapple at medium speed with an electric mixer until light and fluffy; stir in pecans. Cut bread into 12 (1 1/2 in. thick) slices; cut a pocket through top crust of each slice. Stuff each slice evenly with cream cheese mixture. Combine eggs with whipping cream, vanilla extract, and ginger, stirring well with a wire whisk. Dip bread slices in egg mixture, coating all sides. Cook on a lightly greased griddle over medium-high heat 3 minutes on each side or until golden. Combine preserves and orange juice in a saucepan; cook over low heat, stirring constantly until melted. Serve with hot toast.
Related Recipes
Start the day off right with more breakfast recipes.
mexican omelet
mango-ginger granola
christmas quiche
Nutrition facts
Kcal: 544.77 kcal
Fibers (g): 4.39g
Sodium (mg): 452.15mg
Carbs: 61.16g
Fat: 32.53g
Saturated fat (g): 13.02g
Proteins: 11.3g