Peach Sorbet
When you want a dessert that's a real peach, this simple recipe does the trick. A homemade peach cobbler that you can prepare in a pinch. With a few simple ingredients, you'll have a world-class dessert on your hands. Dive in!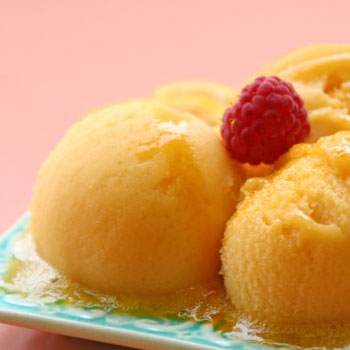 Ingredients
For 7 people
3

cup(s)

water

1

cup(s)

granulated sugar

16

ounce(s)

peach, fresh and sliced

1/4

cup(s)

lemon juice

3/4

cup(s)

fresh orange juice

1/4

teaspoon(s)

almond extract
Directions
Bring water and sugar to a boil in a medium saucepan, stirring often; reduce heat, and simmer 5 minutes, stirring occasionally. Cool; cover and chill. Process peach slices and lemon juice in a blender until smooth, stopping once to scrape down sides. Combine sugar mixture, peach mixture, orange juice, and almond extract; pour into freezer container of a 4-quart hand-turned or electric freezer. Freeze according to manufacturer's instructions. Pack freezer with additional ice and rock salt, and let stand 1 hour before serving.
Nutrition facts
Kcal: 281.63 kcal
Fibers (g): 6.05g
Sodium (mg): 1.05mg
Carbs: 70.4g
Fat: 1.01g
Saturated fat (g): 0.07g
Proteins: 3.69g