Lite Veggie Quiches
Quiches are rich in taste and often high in calories and fat... unless you're talking about these lite veggie quiches. Made with reduced fat ingredients, it's light on the lips and the hips.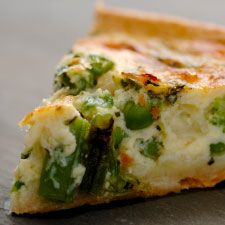 Ingredients
For 6 people
3

(7-8 inch) flour tortillas

2

ounce(s)

reduced-fat Swiss cheese, shredded

1

cup(s)

broccoli florets

1/2

small sweet red pepper, cut into thin strips (1/2 cup)

2

medium green onions, sliced

1

cup(s)

Egg Beaters egg substitute, fat-free

12

tablespoon(s)

fat-free evaporated milk

1/4

teaspoon(s)

dried thyme, crushed

1/8

teaspoon(s)

salt

1/8

teaspoon(s)

pepper

4

slices sweet red peppers, thinly strips
Directions
Coat three 6- to 7-inch individual round baking dishes or pans* with nonstick cooking spray. Carefully press tortillas into dishes or pans. Sprinkle with cheese.
In a small covered saucepan cook the broccoli, the 1/2 cup sweet pepper strips, and the green onions in a small amount of boiling water about 3 minutes or until crisp-tender. Drain well. Sprinkle cooked vegetables over cheese in baking dishes or pans.
In a medium-mixing bowl stir together egg product, evaporated milk, thyme, salt, and black pepper. Pour over vegetables in baking dishes or pans. Place on a baking sheet. Bake in a 375-degrees. Heat oven for 25 to 30 minutes or until puffed and a knife inserted near center of each comes out clean. Let stand for 5 minutes before serving. Garnish with additional strips of sweet pepper.

Ready in 40 min
Nutrition facts
Kcal: 158.43 kcal
Fibers (g): 1.26g
Sodium (mg): 398.02mg
Carbs: 24.54g
Fat: 3.02g
Saturated fat (g): 1.18g
Proteins: 8.63g