Kosher Salt-Encrusted Prime Rib Roast
It's prime time. We're talking about preparing this rib roast that's covered in salt. Serve with rice, potatoes or the side of your choice. You can't go wrong with this meaty lead.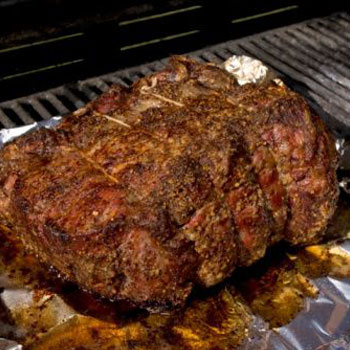 Ingredients
For 12 people
48

teaspoon(s)

coarse kosher salt

64

ounce(s)

prime rib roast

3

teaspoon(s)

ground black pepper

3

teaspoon(s)

seasoning salt
Directions
Preheat oven to 210 degrees. Cover the bottom of a roasting pan with a layer of kosher salt. Place the roast, bone side down, on the salt. Season the meat with the ground black pepper and seasoning salt, then cover completely with kosher salt. Roast in preheated oven for 4 to 5 hours, or until the internal temperature of the meat reaches 145 degrees. Remove from oven and let rest for 30 minutes. This sets the juices and makes the roast easier to carve. Be sure to remove all the salt from the roast before serving.
Nutrition facts
Kcal: 339.84 kcal
Fibers (g): 0.23g
Sodium (mg): 9251.15mg
Carbs: 0.5g
Fat: 19.59g
Saturated fat (g): 7.13g
Proteins: 37.42g