Healthy Hummus
Dip it good! This homemade hummus is a fresh alternative to high-fat dips that won't increase your bottom line. Serve with carrots, celery or whole wheat pita chips.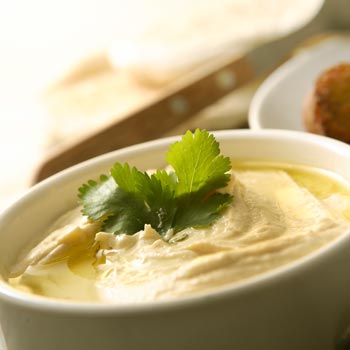 Ingredients
For 4 people
1

6 oz. canned garbanzo beans, (chickpeas)

1/2

tablespoon(s)

tahini

1 1/2

teaspoon(s)

lemon juice

1/2

teaspoon(s)

finely chopped garlic

1 1/2

tablespoon(s)

olive oil

1/8

teaspoon(s)

salt, to taste

1/8

teaspoon(s)

freshly ground black pepper, to taste
Directions
Drain and rinse the garbanzo beans. Puree the garbanzo beans in a blender or food processor with the tahini, lemon juice and garlic. With the machine running, add the olive oil slowly, until the hummus becomes thick and creamy. Add salt and pepper to taste. Serve with pita bread.
Nutrition facts
Kcal: 144.67 kcal
Fibers (g): 4.24g
Sodium (mg): 231.03mg
Carbs: 14.87g
Fat: 7.82g
Saturated fat (g): 0.97g
Proteins: 4.81g