Healthy Chicken Marsala
Get wined and dined with this magnificent chicken Marsala that's not just good... but good for you. It's sure to be a feather in your cap.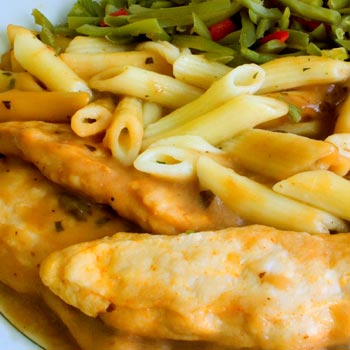 Ingredients
For 4 people
1/8

teaspoon(s)

black pepper

1/4

teaspoon(s)

salt

1/4

cup(s)

flour

4

(5-oz.total) chicken breasts, boned, skinless

1

tablespoon(s)

olive oil

1/2

cup(s)

marsala wine

1/2

cup(s)

chicken stock, fat skimmed from top

1/2

lemon, juice from half of a lemon

1/2

cup(s)

mushrooms, sliced

1

tablespoon(s)

fresh parsley, chopped
Directions
Mix together pepper, salt, and flour. Coat chicken with seasoned flour. In heavy-bottomed skillet, heat oil. Place chicken breasts in skillet and brown on both sides, then remove and set aside. To skillet, add wine and stir until heated. Add juice, stock, and mushrooms. Stir, reduce heat, and cook for about 10 minutes, until sauce is partially reduced. Return browned chicken breasts to skillet. Spoon sauce over chicken. Cover and cook for about 5–10 minutes or until chicken is done. Serve sauce over chicken. Garnish with chopped parsley.
Nutrition facts
Kcal: 233.89 kcal
Fibers (g): 0.81g
Sodium (mg): 774.22mg
Carbs: 11.1g
Fat: 5.85g
Saturated fat (g): 0.58g
Proteins: 31.72g