Easy Chicken Tenders
These healthy, savory tenders are a quick fix that's great for kids. The kids will never know they aren't the greasy, fried variety.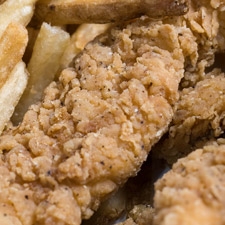 Ingredients
For 1 people
16

ounce(s)

chicken tenderloins or breasts cut into strips

1

ounce(s)

stick butter or margarine, melted

17

Ritz crackers, crushed (1/2 sleeve)

2

teaspoon(s)

garlic powder

1/2

teaspoon(s)

pepper

1/2

bunch of fresh chopped parsley
Directions
Mix crackers, parsley, garlic powder and pepper in large bowl; set aside. Toss chicken tenders in melted butter until well coated. Remove from butter and dredge in crumb mixture. When completely coated, place on cookie sheet and bake at 350 degrees for 15-20 minutes until golden. Serve with your favorite dipping sauce.
Nutrition facts
Kcal: 1504.72 kcal
Fibers (g): 4.59g
Sodium (mg): 2083.84mg
Carbs: 45.47g
Fat: 108g
Saturated fat (g): 61.58g
Proteins: 98.36g