Dreamy Chocolate Mousse
Mousse is a classic, creamy dessert made from a whipped mixture of egg and cream, in combination with pureed fruit or decadent chocolate. Whipping the egg whites adds lightness to the dessert, while the cream and yolk provide its richness. Serve chilled with sweetened whipped cream and garnish with fruit or fresh mint for color and a pop of flavor.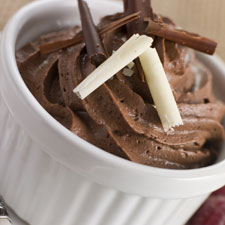 Ingredients
For 4 people
1

cup(s)

semisweet chocolate chips

1

large fresh egg

1

teaspoon(s)

vanilla extract

1

cup(s)

heavy cream, heated

1

sweetened whipped cream for garnish
Directions
Place chocolate chips, egg and vanilla into the container of electric blender and blend for 30 seconds.
Remove center of blender lid and while machine is running, slowly pour heated cream into the chocolate mixture. Blend until well-mixed and chocolate chips are melted. Pour into parfait or wine glasses. Refrigerate until set. Serve garnished with a dollop of sweetened whipped cream.
Nutrition facts
Kcal: 422.07 kcal
Fibers (g): 2.55g
Sodium (mg): 41.16mg
Carbs: 29.49g
Fat: 35.13g
Saturated fat (g): 21.38g
Proteins: 3.94g