Conch Chowder
You don't have to go to your favorite seafood restaurant for a shell of a soup. Instead satisfy your hankering for conch chowder with this simple recipe. It's certain to bowl you over.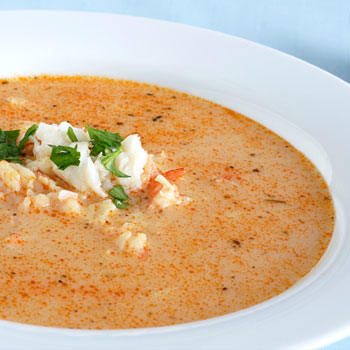 Ingredients
For 1 people
8

ounce(s)

melted butter

1 1/2

bunches celery

2

Spanish onion

1

cup(s)

flour

64

ounce(s)

shrimp stock

1/10

teaspoon(s)

cayenne pepper

3

teaspoon(s)

Old Bay Seafood Seasoning

1

dash(es)

salt

1

dash(es)

pepper

3

dash(es)

large potatoes

64

tablespoon(s)

heavy cream

2

cup(s)

tomato puree

64

ounce(s)

fresh conch

1

scallions

5

Oyster crackers
Directions
Melt butter in stock pot; add celery and onion. Cook vegetables until translucent. Over low heat, add flour to make a roux. Cook roux for 3 minutes until blonde in color. Add shrimp stock and bring to low boil. Add cayenne, Old Bay, salt and pepper. Add potatoes and simmer until potatoes are tender, about 30 minutes. Add heavy cream and tomato puree; simmer to bring to desired temperature. Add conch and adjust seasoning. Simmer until conch is heated through. Serve in soup crock topped with sliced scallions and a side of oyster crackers.
Nutrition facts
Kcal: 11299.81 kcal
Fibers (g): 20.28g
Sodium (mg): 5148.91mg
Carbs: 1020.8g
Fat: 576.47g
Saturated fat (g): 372.45g
Proteins: 520.22g