Christmas Tree Cookies
Oh, Christmas tree cookies! If you're searching for the traditional Christmas cookie, you've found it in this recipe. When it comes to these sugar cookies, you shape their appearance into your favorite holiday symbols. And Santa is sure to love them!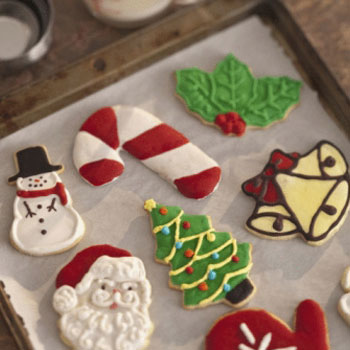 Ingredients
For 2 Dozen(s)
2 1/2

cup(s)

all purpose flour

1 1/2

cup(s)

confectioners' sugar

1

cup(s)

butter, softened

1

egg

1

teaspoon(s)

vanilla extract

1

teaspoon(s)

baking soda

1

teaspoon(s)

cream of tartar

2

teaspoon(s)

amaretto or 0.5 tsp. of almond extract
Directions
1. Mix confectioners' sugar, butter or margarine, egg, vanilla, and almond extract. Mix in flour, baking soda, and cream of tartar. Cover and refrigerate for 2 hours.
2. Heat oven to 375 degrees. Separate dough into halves. On lightly floured cloth-covered board, roll each half out to 3/16 inch thick. Cut into Christmas shapes.
3. Bake on parchment-lined baking sheets for 6 to 8 minutes. Let cool and decorate as desired.
Nutrition facts
Kcal: 1067.84 kcal
Fibers (g): 2.51g
Sodium (mg): 711.37mg
Carbs: 225.53g
Fat: 4.37g
Saturated fat (g): 3g
Proteins: 19.81g