Christmas Brunch Casserole
There's nothing better than waking up on Christmas morning to a tree full of gifts except a delicious warm meal on the table to boot. The title says it all -- prepare on Christmas Eve and bake on Christmas morning. It might just be the best present under the tree, at least to your tastebuds.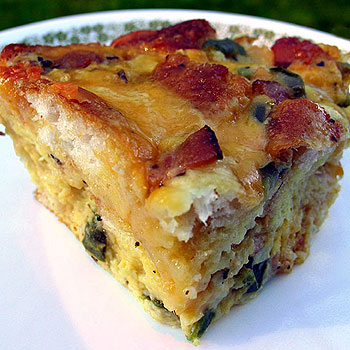 Ingredients
For 6 people
16

ounce(s)

bacon

1

tablespoon(s)

butter

2

onions, chopped

2

cup(s)

fresh sliced mushrooms

4

cup(s)

frozen hash brown potatoes, thawed

1

teaspoon(s)

salt

1/4

teaspoon(s)

garlic salt

1/4

teaspoon(s)

ground black pepper

4

eggs

1 1/2

cup(s)

milk

1/10

teaspoon(s)

dried parsley

1

cup(s)

shredded Cheddar cheese
Directions
Preheat oven to 400 degrees. Grease a 9x13 in. casserole dish.
Place bacon in a large, deep skillet. Cook over medium high heat until evenly brown. Drain and set aside. In a separate skillet, melt the butter and fry onions and mushrooms until tender.
Place potatoes in bottom of prepared dish. Sprinkle with salt, garlic salt, and pepper. Top with bacon, then onions and mushrooms.
In a large bowl, beat eggs with milk and parsley. Pour over casserole. Top with grated cheese. Cover and refrigerate overnight.
Bake in preheated oven for 1 hour or until set. If preparing and baking the same day, cook for 45 minutes.
Cook time: 45-60 minutes
Related Recipes:
The best of waking up are these awesome casseroles. Also check out our:
Hearty Breakfast Casserole

Sausage Breakfast Casserole
Super Morning Casserole
Nutrition facts
Kcal: 686.6 kcal
Fibers (g): 3.1g
Sodium (mg): 2164.97mg
Carbs: 33.3g
Fat: 48.28g
Saturated fat (g): 18.4g
Proteins: 35.16g