Chocolate-Strawberry Mousse
Chocolate and strawberry are a perfect pairing, and this mouthwatering mousse brings these two fabulous flavors together in one decadent dessert.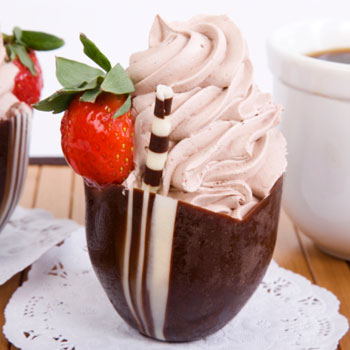 Ingredients
For 6 people
1

pint basket ripe strawberries, washed, stemmed and halved

3

tablespoon(s)

orange-flavored liqueur or 3 tbsp. frozen orange juice concentrate, thawed

1 1/2

ounce(s)

water

7 1/2

teaspoon(s)

sugar, divided

1

cup(s)

semisweet chocolate pieces

1 1/2

cup(s)

whipping cream, divided

1/2

teaspoon(s)

vanilla extract

1

mint sprig, for garnish
Directions
In a bowl, toss strawberries and liqueur or orange juice; cover and refrigerate.
To make chocolate mousse: In a small saucepan, mix water with 2 tbsp. of the sugar. Bring to boil; reduce heat and simmer 1 minute. Place chocolate pieces in container of electric blender. Immediately add hot sugar mixture. Blend until chocolate is melted and smooth.
In medium bowl, whip 3/4 cup of the cream to form stiff peaks. With rubber spatula, fold chocolate into cream to blend thoroughly. Cover and refrigerate until firm, at least 2 hours or up to 3 days. Just before serving, whip the remaining 3/4 cup cream to form soft peaks. Beat in the remaining 1/2 tbsp. sugar and the vanilla.
In four 10 to 12 oz. stemmed wine glasses or in dessert bowls, layer mousse, whipped cream and strawberries, dividing equally. Garnish with mint sprigs.
Nutrition facts
Kcal: 428.55 kcal
Fibers (g): 2.84g
Sodium (mg): 26.83mg
Carbs: 29.42g
Fat: 30.59g
Saturated fat (g): 18.68g
Proteins: 2.8g