Cantaloupe Soup
Soup isn't just for the winter months. This cool and refreshing fruit concoction has perfect warm-weather appeal and is great, any time of day.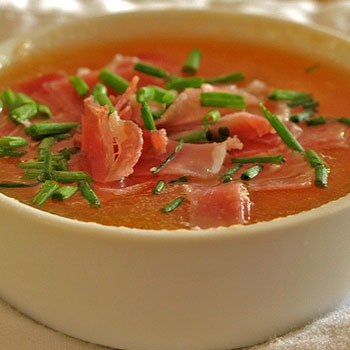 Ingredients
For 4 people
2

cantaloupes

1

teaspoon(s)

ground ginger

1/4

teaspoon(s)

nutmeg

1/2

cup(s)

fat-free sour cream, plus 4 tsp. more for garnish
Directions
Cut cantaloupes in half. Remove seeds. With a spoon or melon baller, remove fruit from flesh. Refrigerate rinds to use as soup "bowls." Put melon into blender with sour cream. Blend to a creamy consistency. Refrigerate for at least an hour to chill soup and let flavors blend. Pour soup into melon bowls and swirl in a teaspoon of sour cream as a garnish.
Nutrition facts
Kcal: 135.17 kcal
Fibers (g): 2.58g
Sodium (mg): 68.17mg
Carbs: 24.95g
Fat: 3.64g
Saturated fat (g): 2.09g
Proteins: 3.38g