Breaded Lamb Rack
What's the best thing since sliced bread? It's this breaded lamb rack. If you enjoy a regular roasted rack of lamb, this breaded version will be a pleasant change of pace.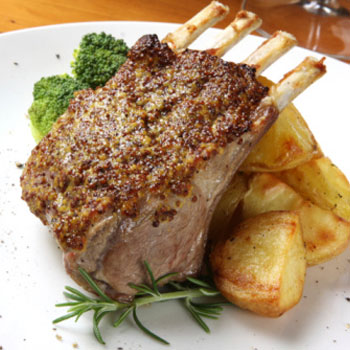 Ingredients
For 2 people
1

dash(es)

salt

1

dash(es)

pepper

2

lamb racks, Frenched

1

teaspoon(s)

Dijon mustard

2

cup(s)

seasoned breadcrumbs
Directions
1) Season lamb and sear, fat side down.
2) Place in roasting pan, rack side down, and cook at 400 degrees for 15 minutes for medium-rare.
3) Remove from oven and let rest 1 minute.
4) Coat fat side of each rack with Dijon mustard and breadcrumbs.
5) Return to oven until golden brown; let rest a few minutes before carving.
To French-cut a rack of lamb means to cut all meat and tissue off the bones, leaving just the chops connected to the cleaned bones.
Nutrition facts
Kcal: 545.96 kcal
Fibers (g): 6.07g
Sodium (mg): 1618.74mg
Carbs: 74.67g
Fat: 8.03g
Saturated fat (g): 2g
Proteins: 42.13g