Blue Cheese & Sun-Dried Tomato Dressing
Blue cheese and sun-dried tomatoes both have their own unique flavors. However, the combination of the two work well together in this decadent dressing that goes great on any salad.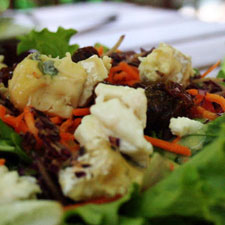 Ingredients
For 4 people
1

cup(s)

sour cream

2

cup(s)

crumbled blue cheese

1/4

cup(s)

white vinegar

2

floz

cold water

1/4

cup(s)

olive oil

1/2

teaspoon(s)

ground white pepper

2/3

teaspoon(s)

cayenne pepper

3

teaspoon(s)

sugar

1

teaspoon(s)

salt

1/2

cup(s)

sun dried tomatoes, drained and diced
Directions
In a blender combine all ingredients except the cup of blue cheese and the sun-dried tomatoes. Blend until smooth and creamy. Place in a bowl and add the sun-dried tomatoes and remaining blue cheese, mix well. Refrigerate until needed.

Ready in 20 min
Nutrition facts
Kcal: 468.4 kcal
Fibers (g): 2.07g
Sodium (mg): 1844.05mg
Carbs: 12.5g
Fat: 42.86g
Saturated fat (g): 18.74g
Proteins: 14.22g