Best Pineapple Orange Sorbet
Home made doesn't have to be complicated. This fruity sweet treat can be fixed the night before a big play date or summer picnic as a healthy, vitamin-packed treat that the kids will love to eat.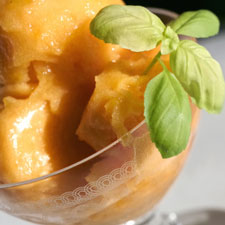 Ingredients
For 10 people
4

ounce(s)

water

1/2

cup(s)

sugar

2

cup(s)

orange juice

1

tablespoon(s)

lemon juice

2 1/2

cup(s)

crushed pineapple

2/3

tablespoon(s)

orange zest, freshly grated
Directions
In a medium saucepan, bring water and sugar to a simmer over medium high heat until sugar is dissolved.
In a blender, puree pineapple with its juice until smooth. Transfer to a metal bowl, and stir in lemon juice, orange juice, and orange zest. Freeze until slightly firm, but not frozen and process mixture again in the blender until smooth. Transfer to a freezer container and freeze until firm, about 2 hours.

Ready in 3 hours
Nutrition facts
Kcal: 79.77 kcal
Fibers (g): 0.57g
Sodium (mg): 0.92mg
Carbs: 20.49g
Fat: 0g
Saturated fat (g): 0g
Proteins: 0.56g