Best Creamy Fruit Tarts
These perfect fruit pastries are a cinch to make. Choose your favorite selection of fuit or berries to make the recipe your own. No matter the combination, these tarts are sure to satisfy.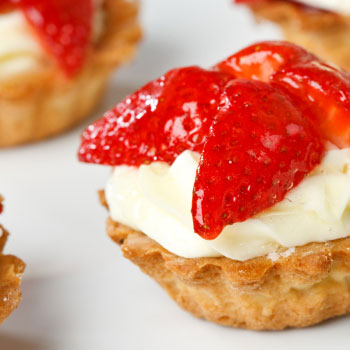 Ingredients
For 6 people
1

cup(s)

buttermilk baking mix

6

teaspoon(s)

granulated sugar

1

tablespoon(s)

butter, softened

6

ounce(s)

cream cheese, softened

1/4

cup(s)

granulated sugar

1/4

cup(s)

sour cream

1 1/2

cup(s)

mixed fruit slices or berries

2 2/3

ounce(s)

apple or apricot jelly, melted
Directions
Heat oven to 375 degrees. Mix baking mix, 2 tbsp. sugar, butter and half of the cream cheese in small bowl until dough forms a ball. Divide into 6 parts. Press each part of dough on bottom and up 3/4-inch sides of 6 tart pans, 4 1/4 x 1-inch or 10 custard cups. Place on cookie sheet. Bake 10 to 12 minutes or until light brown; cool on wire rack. Remove tart shells from pans. Beat remaining cream cheese, 1/4 cup sugar and sour cream until smooth and spoon into tart shells, spreading over bottoms. Top each with about 1/4 cup fruit. Brush with jelly.
Nutrition facts
Kcal: 321.07 kcal
Fibers (g): 0.83g
Sodium (mg): 464.41mg
Carbs: 39.43g
Fat: 16.85g
Saturated fat (g): 8.46g
Proteins: 4.15g