The Unique Relationship Between Wind Chimes And Feng Shui
| | | | |
| --- | --- | --- | --- |
| | | | |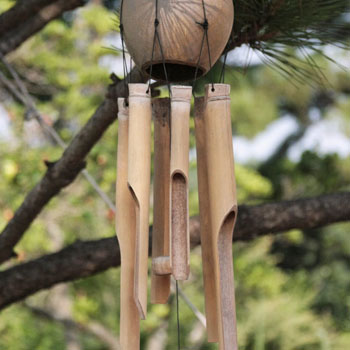 by Stephen Betzen
There is a harmonious marriage shared by wind chimes and the natural forces of nature. As air current moves against the striker or clapper of the wind chimes, it knocks against the tuned pipes, which in turn sends waves of a reverberating "song," carried along by the wind. The resulting delicate balance of peace, grace, and harmony isn't as hard to achieve as one might think. Although there are many different schools of thought, the basic philosophies of balance behind Feng Shui, and recognized forces of nature, remain the same.
For centuries the Chinese have believed that there is a logical way to organize their living and discipline their thoughts, to better achieve harmony and live peaceably within the forces of nature. That same attitude has become increasingly popular in the Western culture. Feng Shui isn't as much a religion as it is a state of mind.
Good, as well as bad, happens to everybody. But, it is the way in which we handle negative or bad experiences that will determine whether or not our souls are at peace and our lives happy. We can choose to live unhappily, in discord with the rest of the world. Or, we can seek happiness by accepting the bad with the good, while at the same time seeking to create a more perfect balance. What does this philosophy have to do with wind chimes?
Irritating background noise filters into our lives daily, causing distractions and stress that are incompatible with harmonic living. By incorporating an atmosphere of peace and tranquility with the use of a wind chime, we also add interest to our home decor or garden yard decor.
| | | | |
| --- | --- | --- | --- |
| | | | |
---