The Basics of Astrology
| | | | |
| --- | --- | --- | --- |
| | | | |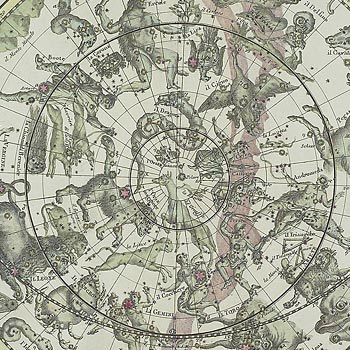 What is a Natal Chart?

If you look at the words "natal chart' you could read them another way -- "birth map" -- this may help you understand what is being talked about. Basically, the natal chart is a map of the sky including the positions of the planets for the time that you were born. Where you are born has an impact on what is seen in the sky, e.g., if two people were born on the same day and at the same time but in a different city and country, what is seen overhead would be different. This would mean that their natal charts showing planetary placements would be different from each other.

So the first step in using astrology is to draw a map of the sky for the moment a person is born. This map includes all the planets, plus a few other points of interest such as the horizon and the middle of the sky directly over the birthplace. The time of birth is important for detailed work because it affects the position of the various parts of the chart, in particular the zodiac sign on the eastern horizon (this gives the Rising Sign/Ascendant) and position of the point over the birthplace (this gives the position of the Midheaven).

If the time of birth is unknown it can be worked out through major life events by an experienced astrologer who specializes in this branch of astrology: this is known as rectification. To do this you would need to give the astrologer as many major life events as possible such as: marriage; birth of children; major moves; divorce; death; new business ventures or jobs; and/or any other significant changes to your life.

Another way of finding out what time you were born is to contact the hospital you were born in. In the majority of cases they have this information recorded on the mother's file. I know this is the case in Australia but I'm not sure about other countries but it is still worth a try.
| | | | |
| --- | --- | --- | --- |
| | | | |
---