Sugar-free, Low-fat Homemade Salad Dressing Recipes
| | | | |
| --- | --- | --- | --- |
| | | | |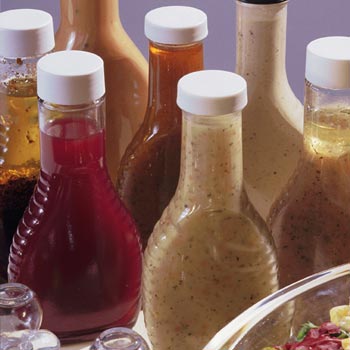 by Linda Wilson
The following are a group of very tasty homemade salad dressings that are quick, easy, and healthy. Perfect for diabetics and dieters, too.
Dijon-Lemon Vinaigrette Salad Dressing
3 tbsp water
2 tbsp lemon juice
2 tbsp extra-virgin olive oil
1 1/2 tbsp red wine vinegar
1 tbsp Dijon mustard
2 tsp minced garlic
2 tsp Worcestershire sauce
1/2 tsp fresh ground black pepper
1/4 tsp salt
Combine all ingredients in a jar and cover tightly. Shake jar vigorously to mix ingredients well. Store in the refrigerator for up to one week.
Per 1 tbsp serving: 25 cal, 1 g carbs, 0 protein
Variations: Cilantro-Lime Vinaigrette: Use 1/4 cup of the above recipe and add 2 tablespoons minced cilantro and 1 tablespoon lime juice.
Lemon Caper Vinaigrette: Use 2 tablespoons Dijon-Lemon Vinaigrette and add the following: 2 tablespoons reduced-fat mayonnaise, 2 teaspoons grated lemon rind, 1 1/2 tablespoons fresh lemon juice, 1 1/2 teaspoons capers, drained, 1/8 teaspoon of freshly ground black pepper. This is good over a green salad that is topped with grilled chicken or tuna.
Enjoy!
| | | | |
| --- | --- | --- | --- |
| | | | |
---