Entree Salad Recipes for Hot Summer Days
| | | | |
| --- | --- | --- | --- |
| | | | |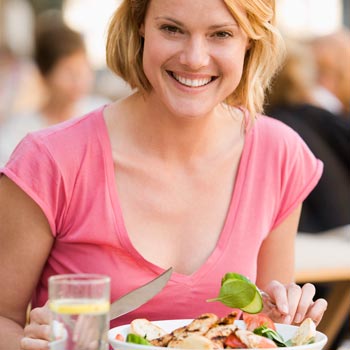 by Linda Wilson
The hot days of summer are definitely here. It's time for quick, easy, light, cool foods! Here are a couple of recipes that are perfect for summertime entree salads. Whether for a luncheon, dinner by the pool, or simply something quick and easy on a hot summer day, give these recipes a try.
This curried turkey salad is a good blend of poultry with fruit and veggies blended in a low-fat creamy dressing. It not only tastes good, but also looks great served on a pretty plate atop a bed of lettuce. You can pick up the turkey at the deli and save heating up the kitchen.
Curried Turkey Salad
1 tbsp olive oil
1 tbsp curry powder
1/4 cup diced onion
2 tbsp lemon juice
2 tbsp granulated Splenda
1/2 cup low-fat mayonnaise
2 stalks celery, thinly sliced
1 lb roasted turkey breast, cubed
1 medium apple, diced
Salad greens to cover 4 salad plates
Heat oil in small saucepan over medium-high heat. Add curry and onion. Cook, stirring 1-2 minutes until onion is tender. Add lemon juice and Splenda. Simmer until sauce begins to thicken, about a minute. Remove from heat and cool. Stir mayonnaise into cooled sauce; mix well. In a large bowl, toss together celery, apple and turkey. Add dressing and gently toss until evenly coated. Place turkey mixture atop salad greens on plates.
| | | | |
| --- | --- | --- | --- |
| | | | |
---