Tomato Green Chile Salsa
Shall we salsa? Dip your favorite tortilla in this spicy salsa and enjoy its Southwestern flavors. It will make your taste buds want to dance!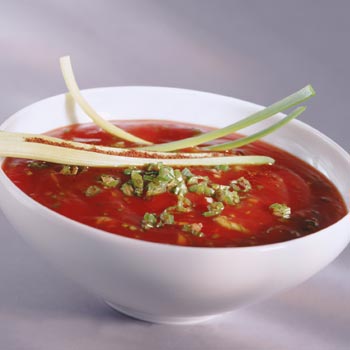 Ingredients
For 1 people
3

cup(s)

peeled, cored, chopped tomatoes

48

tablespoon(s)

seeded, chopped long green chiles

3/4

cup(s)

chopped onions

1

jalapeno pepper, seeded and finely chopped

6

cloves garlic, finely chopped

1 1/2

cup(s)

vinegar, white or cider

1/2

teaspoon(s)

ground cumin

2

teaspoon(s)

oregano leaves

1 1/2

teaspoon(s)

table salt

8

favorite cornmeal tortilla
Directions
Wash tomatoes, dip in boiling water for 30 to 60 seconds or until skins split and then dip into cold water. Peel off skins, remove cores and chop. Combine all ingredients in a large saucepan and heat, stirring frequently, until mixture boils. Reduce heat and simmer for 20 minutes, stirring occasionally. Put into jars, leaving ½-inch headspace.
Adjust lids and process in a boiling water canner for 15 to 20 minutes, depending upon altitude (15 minutes at 1,000 feet or lower and 20 minutes for higher elevations).
Yield: 3 pints
Caution: Wear rubber gloves while handling chiles or wash hands thoroughly with soap and water before touching your face.
Nutrition facts
Kcal: 868.88 kcal
Fibers (g): 27.91g
Sodium (mg): 6447.74mg
Carbs: 159.39g
Fat: 5.97g
Saturated fat (g): 0.99g
Proteins: 19.8g