Thai Glazed Chicken
This Thai chicken dish goes down in a glaze of glory. All of these flavors blend perfectly together. It's as good as any Thai restaurant, but you don't even have to leave the house.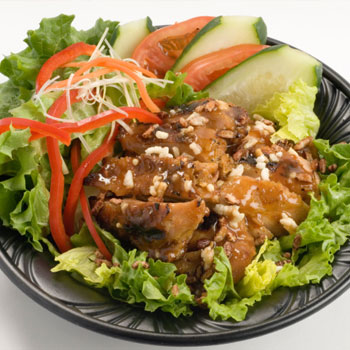 Ingredients
For 4 people
3

pound(s)

chicken, cut up and trimmed of excess fat

3

tablespoon(s)

soy sauce

1 1/2

tablespoon(s)

garlic, minced

1 1/2

tablespoon(s)

ginger, minced

1

teaspoon(s)

dried chili flakes, crushed

1

tablespoon(s)

corn oil

1

lime wedges

1

cilantro leaves, chopped for garnish

1/4

cup(s)

sugar

2

tablespoon(s)

Thai fish sauce
Directions
Place chicken in a large bowl with soy sauce, 1 tbsp. each of garlic and ginger and 1 tsp. chili flakes. Toss well to coat. Chicken may be covered and refrigerated for up to a day. Put oil in a large, deep nonstick skillet over medium-high heat. Remove chicken from marinade, and add skin-side down, to hot oil. Brown well on both sides, then lower heat, and cook until chicken is cooked through, about 25 minutes. At this point, chicken can be served with lime wedges and cilantro. For Vietnamese-style chicken, remove chicken from pan, and then turn heat to low, and add sugar, another tbsp. each of garlic and ginger and another tsp. of chili, along with 2 tbsp. water. Raise heat to high and cook, stirring occasionally, until sugar melts and sauce thickens and foams. Add nam pla and any juices accumulated around the reserved chicken, and cook a minute more, then return chicken to pan, and cook, turning pieces until they are nicely glazed and chicken is hot. Remove from skillet, spoon sauce on top, garnish with lime and cilantro, and serve.
Nutrition facts
Kcal: 154.68 kcal
Fibers (g): 0.97g
Sodium (mg): 1459.21mg
Carbs: 20.22g
Fat: 4.94g
Saturated fat (g): 0.88g
Proteins: 8.05g