Stuffed Grouper
Grouper is the Cadillac of meaty white fish. It's flavorful and moist and takes sauces well. You'll hardly feel like a fish out of water when you add this guy to the menu.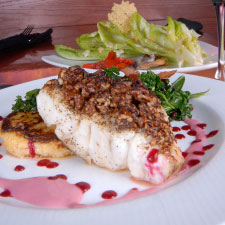 Ingredients
For 1 people
8

grouper medallions

6

ounce(s)

crab cake mix

8

ounce(s)

roasted shallot beurre blanc

1

cup(s)

poached asparagus spears

1

cup(s)

saffron risotto

16

tablespoon(s)

red pepper vinaigrette

1

cup(s)

poached baby vegetables

1

dash(es)

salt, to taste

1

dash(es)

pepper, to taste
Directions
1. Sear two seasoned grouper medallions in a hot sauté pan.
2. Remove to the side and place in a baking pan.
3. Place 1.5 ounces crab mix on top of one medallion and put other medallion on top.
4. Place in a preheated 350-degree oven for 5 minutes, or until heated through.
5. Fan 2 ounces asparagus on plate, top with 2 ounces risotto and grouper.
6. Garnish with vegetables, and finish with vinaigrette and beurre blanc.
Beurre blanc sounds like a hard sauce to make, but it's actually a simple butter and white wine sauce.
Nutrition facts
Kcal: 2718.25 kcal
Fibers (g): 6.9g
Sodium (mg): 5013.72mg
Carbs: 116.19g
Fat: 151.7g
Saturated fat (g): 72.8g
Proteins: 196.14g