Simple Coconut Macaroons
Need an easy dessert for guests? You'll go nuts for these chewy, sweet treats that are unbelievably simple to prepare. Here is a simple take on this family favorite.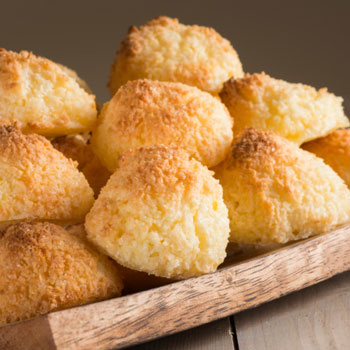 Ingredients
For 3 people
14

ounce(s)

coconut, sweetened

1

can nonfat sweetened condensed milk

1

teaspoon(s)

vanilla extract
Directions
In a large bowl combine the coconut, condensed milk and vanilla. Stir well. Drop by small spoonfuls onto a very well greased cookie sheet. Bake at 350 degrees for 10 minutes. Remove from the pan while still warm.
Nutrition facts
Kcal: 460.7 kcal
Fibers (g): 14g
Sodium (mg): 88.46mg
Carbs: 111.18g
Fat: 18.67g
Saturated fat (g): 4.67g
Proteins: 6g