Seafood Salad
Fresh and simple, the best tastes from the ocean in a lettuce leaf. Relive your salad days! This seafood salad is worth seeing!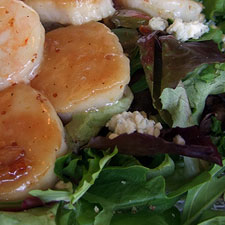 Ingredients
For 8 people
16

ounce(s)

medium shrimp, peeled

8

ounce(s)

sea scallops

1

(6 oz.) mahimahi fillet or other firm white fish fillets (about 1/2 inch thick) s

3/4

cup(s)

diced seeded tomato

1/4

cup(s)

minced fresh cilantro

3

tablespoon(s)

minced shallots

1

floz

fresh lime juice

1

tablespoon(s)

minced seeded jalapeo pepper

1

teaspoon(s)

salt

16

lettuce leaves
Directions
Steam shrimp and scallops, covered, 6 minutes or until done. Cool and cut shrimp and scallops into quarters. Steam mahimahi, covered, 8 minutes or until fish flakes easily with a fork. Cool and cut fish into 1-inch pieces. Combine the shrimp, scallops, fish, tomato, cilantro, shallots, lime juice, jalapeo pepper, and salt in a bowl. Spoon 1/4 cup seafood mixture into center of each lettuce leaf, and roll up.
Nutrition facts
Kcal: 112.5 kcal
Fibers (g): 0.78g
Sodium (mg): 539.7mg
Carbs: 3.44g
Fat: 1.63g
Saturated fat (g): 0.19g
Proteins: 19.75g