Nutty Apple Cornbread Dressing
This recipe needs no introduction at all... the ingredients and the preparation speak for themselves. For a dish you'll go nuts over, enjoy this apple cornbread stuffing.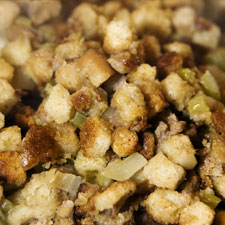 Ingredients
For 6 people
1

(13 x 9-inch) pan cornbread, cooled and crumbled

1

(8 oz.) pkg. herb stuffing mix

2

tablespoon(s)

chopped fresh parsley

1/2

teaspoon(s)

salt

1/2

teaspoon(s)

ground ginger

3/4

cup(s)

butter

1

cup(s)

celery, chopped

1

cup(s)

onion, chopped

2

cup(s)

apple juice

2

cup(s)

apple, chopped

3

eggs

1/2

cup(s)

pecans, chopped
Directions
Heat oven to 350 degrees and butter a 3-quart casserole dish.
In a large bowl combine the cornbread, stuffing mix, parsley, salt and ginger.
In a heavy saucepan melt the butter and sauté the celery and onion for 8 to 10 minutes or until tender. Add this to the cornbread mixture and mix well. Stir in the chopped apple, chopped pecans, apple juice and beaten eggs. Toss lightly. Spoon dressing into the prepared casserole dish.
Bake at 350 degrees for 30 to 35 minutes.
Nutrition facts
Kcal: 622.42 kcal
Fibers (g): 4.51g
Sodium (mg): 1049.76mg
Carbs: 67.62g
Fat: 35.23g
Saturated fat (g): 16.82g
Proteins: 8.15g