Mediterranean Grilled Grouper
Make your way to the Mediterranean and bring your family and friends. This grouper dish is perfect for, well, a group gathering! This firm fish stands up to the strong flavors of olives, tomatoes, and feta for a Greek-infused treat.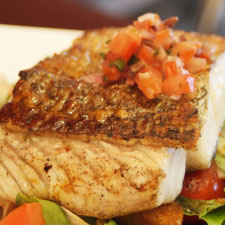 Ingredients
For 1 people
2

tablespoon(s)

sun-dried tomatoes, chopped

6

pitted and sliced black olives

1/8

cup(s)

toasted pine nuts

1

pat clarified butter

1/8

cup(s)

crumbled feta cheese

1/3

cup(s)

heavy cream

1

grouper filet portion, seasoned and grilled
Directions
Sauté tomatoes, black olives and pine nuts in clarified butter for about a minute. Add cheese; stir until melted. Add heavy cream; simmer and reduce until desired thickness. Place grouper on plate; drizzle with sauce.
Nutrition facts
Kcal: 507.5 kcal
Fibers (g): 1.48g
Sodium (mg): 689.41mg
Carbs: 7.51g
Fat: 41.07g
Saturated fat (g): 15.71g
Proteins: 27.57g