Grilled Coconut Shrimp
Go cuckoo for coconut! Experience the flavors of Asia when you prepare this light, delicate shrimp cocktail. Your guests will be in awe.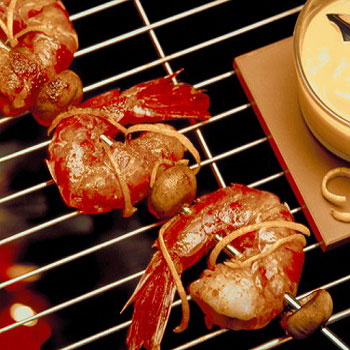 Ingredients
For 4 people
13

ounce(s)

coconut milk

2

teaspoon(s)

green curry paste

2

teaspoon(s)

ginger root, chopped

1

tablespoon(s)

grated lime rind

2

tablespoon(s)

fish sauce

3

teaspoon(s)

granulated sugar

2

tablespoon(s)

chopped fresh mint

2

tablespoon(s)

chopped fresh coriander

6

teaspoon(s)

lime juice

16

ounce(s)

large shrimp

1

dash(es)

salt

1/4

cup(s)

unsweetened coconut
Directions
Place coconut milk in a skillet and bring to boil. Reduce heat to low and simmer for 10 minutes until reduced by a quarter - it should be the consistency of heavy cream. Stir in the green curry paste, ginger, lime leaves, fish sauce and sugar. Cook another 5 to 6 minutes or until sauce is thickened and fragrant.
Stir in 1 tbsp each of mint and coriander and all of lime juice. Cool.
Divide sauce in half in 2 bowls. Season shrimp with salt and stir into half of sauce.
Marinate shrimp in sauce for 30 minutes. Keep other half of sauce for dipping sauce.
Remove shrimps from marinade and discard marinade.
Preheat grill on high and grill shrimpYour about 1½ minutes per side or until pink and slightly curled. Cool. Stir in coconut and remaining mint and coriander to dipping sauce. Serve with shrimps.
Place shrimp on bamboo skewers, if desired.
You can roast the shrimp in a 500 degrees oven for 5 minutes or grill them on the barbecue or under the broiler. Prep. time 50 min and includes marinating time.
Nutrition facts
Kcal: 257.13 kcal
Fibers (g): 2.08g
Sodium (mg): 937.02mg
Carbs: 13.4g
Fat: 9.36g
Saturated fat (g): 3.91g
Proteins: 25.16g